• Combines hundreds of dollars worth of tools into one effective alternative.
• Body made using super strong machined aluminium alloy strong enough to hold a person's weight.
• Tools forged from heat-treated solid steel for maximum durability.
• Rust, water, heat and fracture resistance. Handle abuse and impact without dents or scratches.
• Fits neatly into any small bag or simply have it out and use as a walking stick.
1. Harpoon/Sickle
2. Knife/Scaler
3. Saw/Grabber
4. Flat cover/Flint fire starter
5. Tungsten steel tip (Breaker)
Total tools included: 9
Body material: 6061-T6 aluminium alloy (tensile strength of over 45,000). Often found used in car chassis, aircrafts and boats.
Tool material: 420 High carbon stainless steel
Walking stick head: Tungsten steel tip (the strongest natural metal known to man)
Black Oxide is used to coat the body for an extra layer of protection. This coating adds to the corrosive resistance and protects your tool against scratches.
Weight:
90 cm: 0.98 kg (2.16 lbs)
107 cm: 1.14 kg (2.51 lbs)
125 cm: 1.30 kg (2.86 lbs)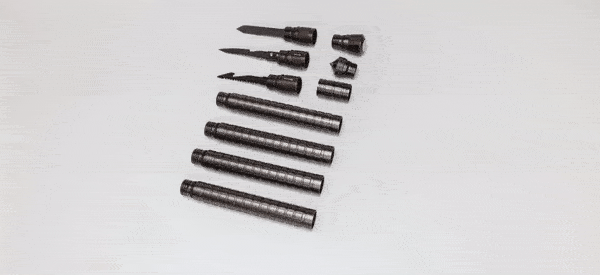 Great stick, but unfortunately not for me
When I received the order, there's no question the product was well made and of a high quality. But for my everyday hiking, it is a bit heavy (and I had to buy an extra section to get it to a reasonable height). And for hiking in the local parks and nature preserves, this stick might be a little too much. That said, the company was very good about letting me return the product and refunding my payment.
David Walkingstick
I just wanted to say I put my walking stick together this thing is bad ass very cool this Wednesday or Thursday I'm going to buy another one I already bought extra attachments for my second one I suggest buying one for hiking or keep it in your vehicle
Too short
Do you sell added sections?
Good product
The stick is sturdy and well built
Free & Easy 100 Day Returns