• Combines hundreds of dollars worth of tools into one effective alternative.
• Body made using super strong machined aluminium alloy strong enough to hold a person's weight.
• Tools forged from heat-treated solid steel for maximum durability.
• Rust, water, heat and fracture resistance. Handle abuse and impact without dents or scratches.
• Fits neatly into any small bag or simply have it out and use as a walking stick.
1. Harpoon/Sickle
2. Knife/Scaler
3. Saw/Grabber
4. Flat cover/Flint fire starter
5. Tungsten steel tip (Breaker)
Total tools included: 9
Body material: 6061-T6 aluminium alloy (tensile strength of over 45,000). Often found used in car chassis, aircrafts and boats.
Tool material: 420 High carbon stainless steel
Walking stick head: Tungsten steel tip (the strongest natural metal known to man)
Black Oxide is used to coat the body for an extra layer of protection. This coating adds to the corrosive resistance and protects your tool against scratches.
Weight:
35.43 inches: 2.16 lbs
42.12 inches: 2.51 lbs
49.21 inches: 2.86 lbs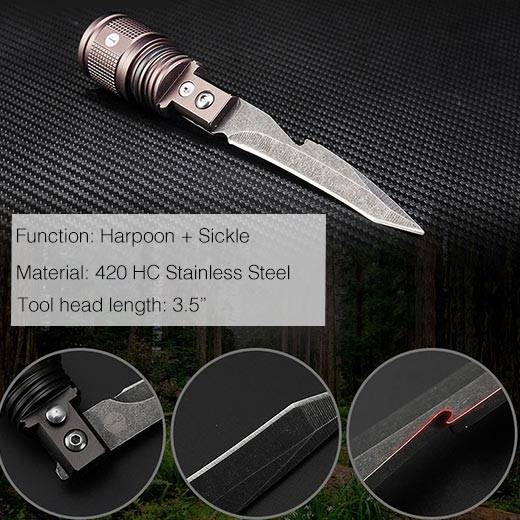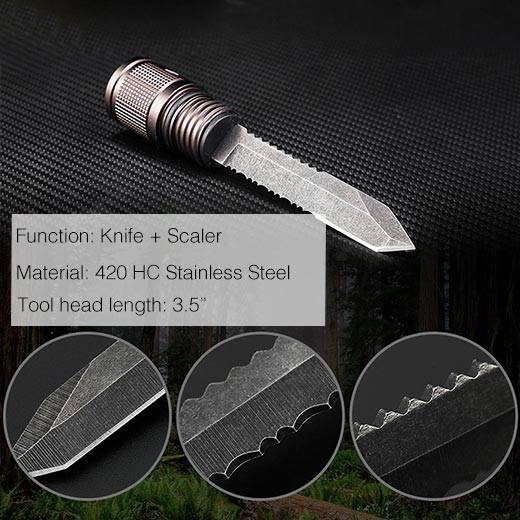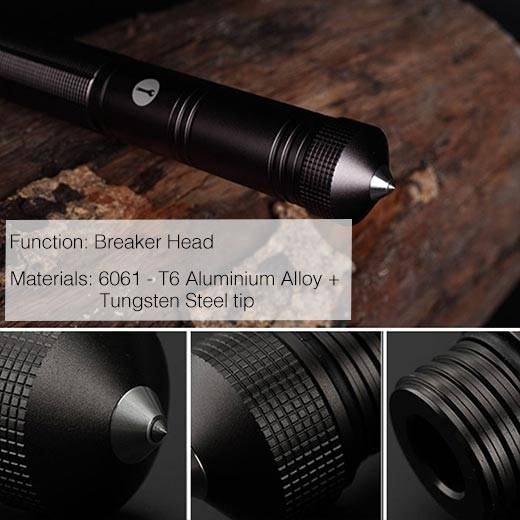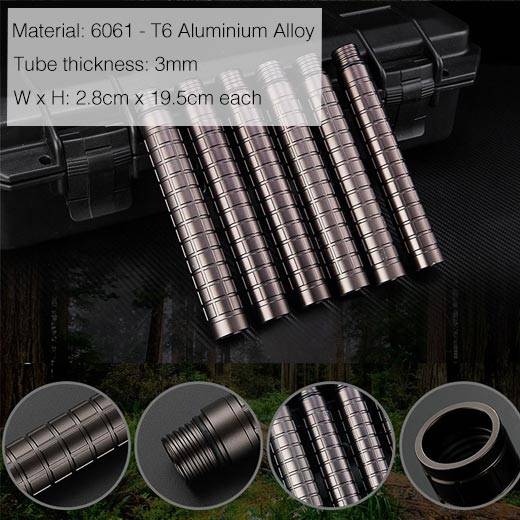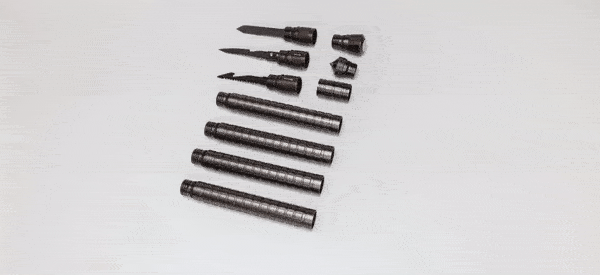 SOLID AND FLEXIBLE TO USE
The ability for me to vary the length based on necessity is outstanding. The multiple tool options are as well. I will get a lot of use out of this prior to needing a walking stick
MK II SURVIVAL SYSTEM + WALKING STICK
Very well made!! Great stick!!
"Thy rod and Thy staff shell comfort me"
Waiting on the rest of it…
Ordered the longer version. Upon receiving the stick, ZERO tools (extra attachments) came with it, w/ exception of each end (glass break / floor piece).
I made notification via email. Will advise on how long it takes for customer service to make it right.
PS: was also certain I had added some type of leather wrap for the top, but not 100%. Working on validating that next.
To be continued…
Hey there, all the tools are actually hidden inside the stick. On the tube handle ends you should see a mini tool icon. This section is unscrewable and will reveal the tool head!
MK II Survival System - Walking Stick
Add 2 extra attachments for FREE Priority Shipping & Handling
Free & Easy 100 Day Returns
Frequently Asked Questions
How long does your warranty last?
Our warranty lasts 25 years. To claim it, please contact us.
How long have you been in business?
We have been around since 2018.
Can I buy extra sections?
Ofcourse, including extra sections, we have different attachments available too. We are also always working on new ones.
Can I really try out the product for 100 days?
Yes you can. We understand people like to have something in hand before making a decision. For this reason we allow customers to return a product within 100 days if they're not satisfied.
Do you offer military/service discounts?
Yes we do. Get in touch with us with proof of service and one of our customer service reps will get back to you.
What comes with my order?
Above, we have pictures showing you exactly what comes according to your choice, and also a detailed written explanation.